Bike Handlebar Bags
If you have a few items to carry and don't want to spend money on the extra storage of a pannier, Try one of our bike handlebar bags. These convenient handlebar mounting bags are small, compact, and can easily carry essential items while you ride your bicycle. Our bike handlebar bags are designed with durable 600D Ripstop fabric, waterproof TPU coating, and secure zippers. These bar bags are perfect for keeping your essential items within arms reach on your daily commutes, tours, trips, and camping trips. 
*Receive 2 FREE Tack Straps to upgrade your handlebar straps with any new Alpha, Dayliner or Dayliner Mini purchase.
What are Tack Straps?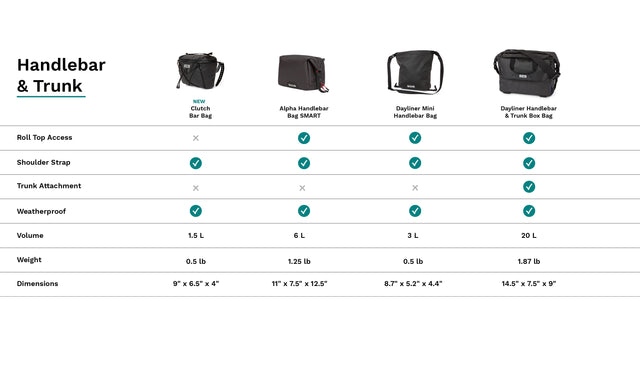 Spacious handlebar bags for your bicycle
We offer handlebar bags with storage capacities of 1.5 and 3 liters. Each pouch can hold essential items like your cell phone, charger, cards, cash, mail, or other accessories in easily accessible mesh pockets. You can pack bulkier items like tools or a rain jacket in the main compartment. 
Two Wheel Gear handlebar packs also come with shoulder straps that turn each bag into a convenient fanny pack for extra mobility and comfort. These bags are great complementary items for touring and bike packing panniers.
Easy to attach handlebar bags
We design all of our bags to be easy to use & attach for everyone.
Our bar bags have ultra-grip and adjustable tack straps.
Tightly wrap the adjustable tack straps around the handlebar of your cycle.
Wrap the stem grips or cinch straps around the stem of your bike handle.
Fit everything inside the bag and roam around town. 
We offer some of the best bike handlebar bags at an affordable price. Whether you're a commuter, backpacker, casual cyclist, or rider, our handlebar bags can make your journey much easier. With a sturdy polyester design and UV-resistant exterior, Two Wheel Gear bags are a must-have riding essential.