Frame Bags
Make your daily commutes and trips easier with our durable frame bags. These frame bags are compact and spacious, which means you get a lot of extra space without compromising the mobility or stability of your bike. You can use a frame bag or a top tube bag to keep your essential items within arm's reach when you're out on your morning ride, mountain biking, or bike packing on a trip.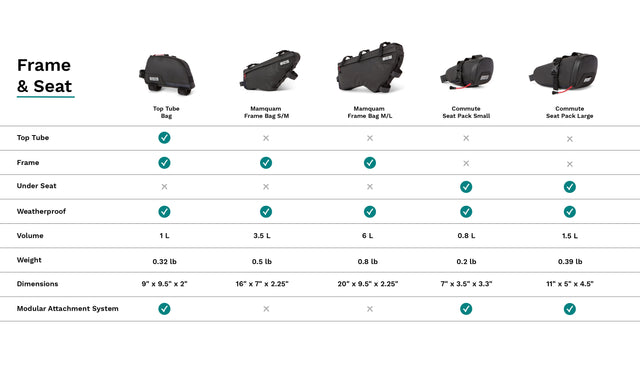 Durable and Convenient Bike Frame Bags
Our Mamquam half and full-frame bags are made with 100% recycled, water-resistant, TPU-coated 600D polyester fabric. Every bag is well protected from the mercurial bouts of Mother Nature. With easy access pockets and internal mesh organization, you won't have to sift through everything when you only want to use a water bottle. 
With strong adjustable straps, you can attach our frame bags to almost any road, tour, or mountain bike in seconds. You can get between 3.5 to 6 liters of space with our frame bags, with the latter being for large bikes. Our frame bags fit almost all bike sizes, so you won't need a custom frame bag for your sweet ride.
Get the best bike frame bags today at an affordable price with TWG. You get a 2-year warrant and free shipping on orders above $100 if you live in the US and Canada. Say bye-bye to that ghastly underutilized space on your bicycle frame and make your life a lot easier.