Bike Panniers
Welcome to Two Wheel Gear, where we engineer panniers for your seamless transitions from the bike to the office, and for your most ambitious bike expeditions. With over two decades of refining, our panniers are meticulously crafted to safeguard your essentials, from laptops to adventure gear, ensuring you ride with peace of mind. Every pannier in our collection converts to a backpack or includes a messenger strap, offering you versatile carrying options off the bike. Born on the West Coast, our bags are not just durable but also rainproof, ensuring your belongings stay dry even in a downpour. Find answers to common questions in our Frequently Asked Questions about Panniers.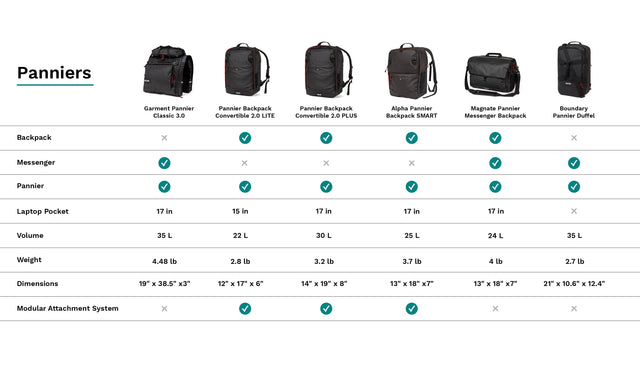 Premium Quality Bike Panniers
Two Wheel Gear is committed to facilitating your cycling journeys, whether you're commuting to work or embarking on an adventurous expedition. Our panniers are not just bags; they are a promise of reliability, ensuring that your belongings are protected and easily accessible throughout your ride.
With a focus on functionality, our panniers are designed to convert easily for off-bike convenience, ensuring you're ready for every part of your journey. From the Classic 3.0 Garment Pannier, ensuring your work attire remains crisp, to the robust Boundary Pannier Duffel, your adventure gear is secure with Two Wheel Gear. Experience the blend of practical design and stylish aesthetics with our collection, and make every ride an effortless adventure.