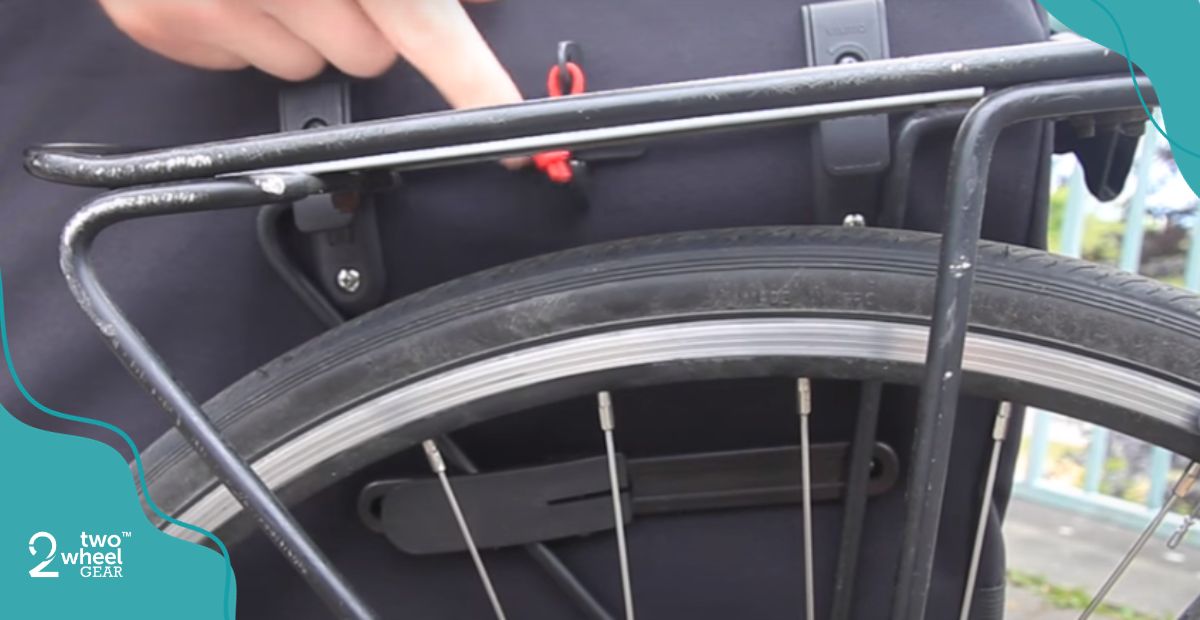 How to Attach a Pannier to a Bike Rack
A pannier bag keeps your items safe and your bike stable during commutes, IF you attach it properly. 
A badly attached bag will only wobble around and cause more problems. With all of the panniers in the market, you might have a hard time attaching your bag. That's why we're here to help.
We'll show you how to attach a pannier to your bike in less than 40 seconds. We'll also tell you which bike bags fit each specific bicycle and how you can choose the right attachment system.
Attach a Pannier to Your Bike Rack in 40 Seconds
This guide will work for most standard mounting systems and bike bags. You can use it for our Garment Pannier Classic, Convertible Backpacks, and the Magnate Messenger. 
Check the pannier bag for its attachment system.
If you're using a Convertible Two Wheel Gear Backpack, tuck the shoulder straps in the back pocket. 
Position the bag in such a way that the snap mounting hooks face the rack.
Source: TwoWheelGear.com
If the bag has a lower catch, slide it behind the side rail of your rear rack.
Source: TwoWheelGear.com
If the bag has lower straps, click them into place behind the side rail.
Source: TwoWheelGear.com
Now, push one of the Vario Mounting Hooks or Kompakt Rail Hooks onto the rack.
Source: TwoWheelGear.com
You should hear a satisfying click when the hooks latch onto the rack.
Source: TwoWheelGear.com
Push your hand behind the bag and turn the Centre Lock.
Source: TwoWheelGear.com
The Centre Lock should be perpendicular to your bike's rack.
Source: TwoWheelGear.com
If you're using a convertible backpack or messenger bag push the Red Hook onto the rack.
Source: TwoWheelGear.com
Pull the bag for a quick security check. 
Source: TwoWheelGear.com
When you want to remove the pannier, just turn the center lock and pull the pannier upwards.
You'll have the pannier in your hands in less than 5 seconds. This is the simplest way to attach and remove a pannier to your bike.
Extra Considerations for Mounting Bike Bags
Before you install a pannier bag onto a rack, there are some important things that you need to consider. The things you should consider are:
Choosing the Right Pannier
Our Two Wheel Gear saddle bags and panniers attach to most bikes, but there are some limits. You need to install pannier bags that are the right size for your bike.
For example, a 35-liter pannier bag may not be a good fit for a small, fragile bike. 
In the same way, using a small bag for a large bike is inefficient because you're not utilizing all the available space. A cargo bike can bear most weights and fit panniers of all sizes and shapes.
Find a pannier that fits on your bike without overburdening it and fulfills your needs. Our Convertible Lite Backpacks are perfect for most cyclists who need space for bikepacking and commuting. 
These bags offer better balance and clamp onto most rack bars with ease, and are overall the best panniers for commute.
Using the Right Bike Rack
Having the right mounting hardware, including the right pannier rack is essential for pannier mounting. Our panniers are compatible with most standard rear racks.
However, some bike racks might not have the right eyelets or side rails. A lack of these could destabilize your rear tire or cause the pannier to rub against the rear tire.
Some bikes may not even have a rack. In this case, you should choose a suitable rack like the Axiom Streamliner Disc DLX Rear Bike Rack. If your bike doesn't have eyelets, you should use p-clamps to attach the rack. If you're not using a Two Wheel Gear bag, then get a KLICKFIX Kompakt Mounting Set to make attachment and removal easier.
Attaching to a Front Rack
Most people mount the pannier to a rear rack because it's much safer and more stable. However, some people prefer using a front rack, which usually comes in the form of a basket or platform over the front wheel. 
If you're using a front rack, you'll need a bag that is small and compact, like a pannier with 20 liters of storage space or a messenger bag.
Heavy bags could mess with the weight distribution and make maneuverability much harder. 
Ideally, you should use a handlebar bag for the front. These are small and compact bags that latch onto your handlebar and rack using bungee cords and straps.
Packing Your Bags Efficiently
A lopsided or badly packed pannier will only throw your bicycle off balance. Make use of the internal mesh pockets to pack your bags efficiently and safely. Distribute the weight evenly across the panniers if you're using a set of bags.
Please do not cram heavy stuff into a pannier without considering the limits of your bike. For example, a road bike can only bear an extra weight of 20 to 30 pounds, while a mountain bike can bear weights of up to 60 pounds.
Packing the right weight and items will save your bicycle rack and bicycle frame from unnecessary damage. If you think a pannier cannot hold all the items you want to carry around, use different options like a frame bag, handlebar bags, and seat bags for extra storage space.
Endnote on Attaching Pannier Bags to a Bicycle
Attaching a pannier to a bike rack is easy if you have the right rack and bicycle. There are hundreds of bike racks and panniers circulating the market, and we know you don't have the time to go through them all. It's why we've made standard racks and panniers that can latch onto most bicycles with ease.
For the best and most convenient experience, use an Axiom Streamliner Disc DLX Rear Bike Rack and any of our Two Wheel Gear panniers. Our personal favorite and most popular choice is the Convertible Backpack Pannier Lite, which is made with waterproof 600D Ripstop fabric. With a KLICKFlX mounting system, this convenient bag can attach to almost any rack on your bike.
Get your bag today and make your commute a breeze. You even get free shipping on orders above $100 in the US and Canada.