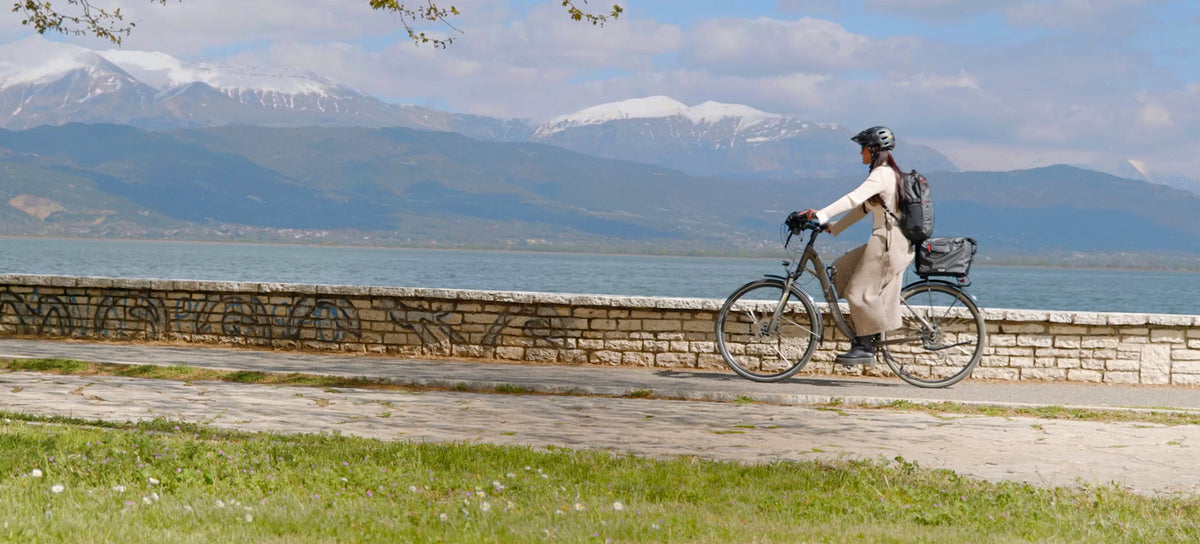 Flip The Script On Mondays
We all know the story: Mondays. More specifically, Monday mornings. The feelings of sluggishness, resisting the dreaded work week ahead. Are we all powerless against this trope? We say no. It's time to flip the script on Mondays and check our mindset.

We have a choice. We can choose to stay with the suffering or choose something different. We can choose to transform a dreary Monday morning routine into an exciting and enlightening experience. On Mondays and on every day, we can choose to get where we're going on our bikes. Beyond being an environmentally conscious and healthy choice, riding to work on Monday sets the entire week off with a positive vibe, and that can change everything.

We were pretty fired up about this idea and wanted to check in with our fellow riders to see what kind of wisdom they could share about approaching the Monday dilemma. We dreamed up a contest, made a video, and invited everyone to leave a comment with their best Monday morning commuting tips. Then we asked commuting expert Tom Babin @Shifter_Cycling to act as our judge. The winner would receive our exclusive "Monday Bundle" (Pannier Backpack Convertible 2.0 LITE, Dayliner Mini Handlebar Bag, Dayliner Handlebar & Trunk Box Bag)

We were thrilled with the responses! Reading through all the comments and hearing what everyone had to say was genuinely exciting. Tom chose his three favourites; first up is our winner, submitted by user @joshmaas-howard9921:
"My Monday Commute Tip: Try out new routes! Just because you're on your way to work doesn't mean you can't see new parts of your city and enjoy the ride at the same time."
"It's easy to get stuck in a rut when commuting, so I love the idea that a bike can help bring some of the magic of exploration to what could be an overlooked or mundane part of your day."


We loved this tip because it's all about mindset. If you find yourself dreading Monday mornings, do something different! Choosing to explore and take "the scenic route" might be exactly what you need to shake off a negative mindset and get the most out of your day and the rest of your week.

Pedalling along a peaceful route, surrounded by nature or the buzz of a waking city, helps clear your mind, reduce stress, and create a sense of calm before the workday begins. The rhythmic motion of cycling is meditative, allowing you to drop any lingering worries and focus on the present moment. Arriving at work after a refreshing bike ride can help you feel focused and ready to tackle the week's challenges ahead.



@joshmaas-howard992's comment really nailed what inspired us to begin with, and we hope he enjoys his new Monday Bundle of TWG bags in appreciation of his contribution. But there were so many great comments; choosing just a few was no small task! Check out these runner-up tips, as chosen by Tom:


"I always keep a 'go-bag' pannier at the ready, with my repair kit, rain pants and poncho, some gear tie-downs, some dry socks and t-shirt, just a few handy things in case of the unexpected. Keeping it in a separate smaller bag means I'm never reshuffling to fit it in my (two wheel gear) backpack, or having to decide which item is more important." @TheKlyntonCrabbe
Tom:
I'm forgetful, so I think it's so smart to have a little go-bag with the essential items that I might otherwise inadvertently leave at home. I think I'm going to start doing this myself!
Practical advice for the forgetful from @TheKlyntonCrabbe. It's also right up our alley - because of the obsession with bags and everything. On to our third runner-up:
"Bring along the essentials you'll need to enjoy your evening after work without having to return home first. Consider bringing items like a picnic blanket, a light jacket, or anything else that will allow you to continue enjoying your day on your bike later. By being prepared, you can seamlessly transition from work to leisure and make more of your time outside!" @johnmorrison6716
Tom:
I just love the contrast of scrambling around on a Monday morning getting ready for work with the absolute bliss of a bike-picnic as the sun sets later that day. What a great way to make your workday better.
Imagine how quickly your Monday would pass, knowing you get to drop straight into picnic mode at the end of the day. Talk about switching up your routine for the better!

Check out the video for yourself and take a minute to read through the rest of the fantastic tips and wisdom that all our amazing and loyal customers shared.
Making the most of Mondays takes a little work, but the payoff is well worth the effort. Here are a few additional Monday morning tips that will help commuters start the week off right:
Plan ahead: Check your bike the night before, and prep your work clothes and anything else you need.

Choose a good route: Find a route that balances safety, efficiency, and scenic appeal. Think about bike lanes and bike-friendly roads, and avoid heavy traffic if you can.

Allow extra time: Leave enough time for your ride, accounting for unexpected delays or weather conditions.

Stay visible and wear protective gear: Wear bright, reflective clothing, and equip your bike with lights and reflectors to ensure visibility, especially during early mornings or dark conditions.

Freshen up at work: If shower facilities are available, bring a change of clothes and take a quick shower to arrive at your workplace feeling refreshed.

Check the mindset: Embrace the freedom and joy of riding. Observe the changing landscape, listen to your favourite music or podcast, or simply cruise in the serenity of your ride.
Remember, Mondays don't have to be the worst part of your week. Choose to make your Monday great, and the rest of the week will be better too. It doesn't matter if you are a seasoned veteran of commuting or if you are only just starting to think about giving it a try - we can all choose to begin our week strong.

We are so grateful to everyone who participated in our contest, our old friends and new friends. Keep the positivity flowing, embrace the commute and live life on two wheels.